Featherweight Electric Wheelchair
Out of stock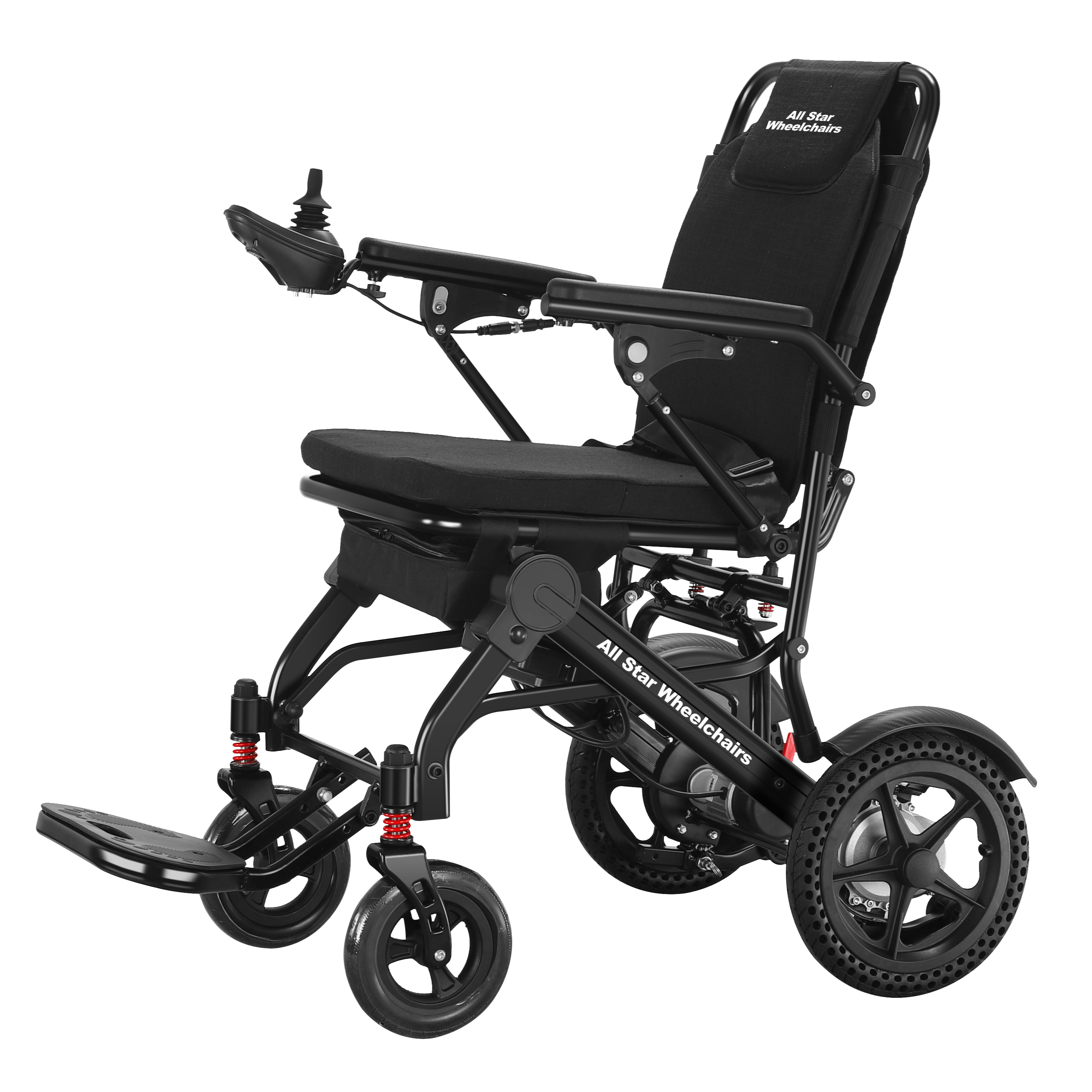 Portab
Featherweight Electric Wheelchair
Out of stock
✔ Full 5 Year Warranty
✔ FREE 2-5 Day USA Shipping!
✔ Sales Tax Included
✔ Easy Returns!
✔ Financing/Split Payments Available
✔ 30-Day Satisfaction Guarantee
Easy Returns
You have 30 calendar days to return an item from the date you received it.
For more info on our return policy, please check here: https://allstarwheelchairs.com/policies/refund-policy
Lifetime Warranty
All electric wheelchairs sold on allstarwheelchairs.com have a lifetime warranty on all the parts and components of the wheelchair.

If you're looking to redeem you warranty, please email us at support@allstarwheelchairs.com.
Express Shipping
In stock items will be ready to ship within 2 business days.

Items typically arrive within 2-5 business days via UPS ground.
#1 Lightest Weight Electric Wheelchair!
Weighing in at a mere 39 pounds, this is our Lightest Electric Wheelchair yet! Our new feather weight edition chair is more lightweight and portable then ever before. Simply fold and un fold within minutes and stow away.
✓ Wheelchair Weight of 39lbs
✓ Weight Capcity of 250lbs
✓ Folds Up in 30 Seconds
Featherweight & Foldable
Our featherweight electric wheelchair is the best bet for anyone who's worried about wheelchair weight. This is the lightest foldable electric wheelchair on the market, making it easy for just about anyone to pick it up!
Store and stow away our Featherweight Electric Wheelchair in a car trunk, suitcase, and just about anywhere else!
Durable Quality & Range
Our Featherweight Electric Wheelchair comes with a 24V 10AH battery that provides a steady 10+ mile range on a single charge!
This wheelchair is built from lightweight but durable aluminum alloy that provides the chair with a sturdy frame that's un-matched. This chair is suitable for users under 250lbs who are looking for an extremely lightweight but durable electric wheelchair!
Specifications
Weight Capacity: 250 LBS
Wheelchair Weight: 39 LBS
Battery Weight: 3 LBS
Total Weight: 42 LBS
Wheelchair Speed: Up to 4 MPH
Wheelchair Range: 10+ Miles
Battery: 24V 10Ah
Motors: 2 x 24V 150W
Charging Time: 4-6 Hours
Wheelchair Seat Width: ~18"
Front Wheels: 8" Solid
Rear Wheelchairs: 12" Rubber Honeychomb
Measurement Specifications
Front Wheel Width: 20"
Back Wheel Width: 23"
Wheelchair Height: 38"
Wheelchair Height Folded: 29"
Wheelchair Width Folded: 23"
Wheelchair Side Width Folded: 16.5"
Wheelchair Seat Depth: ~18"
Arm Rest Width: ~20"
Turning Radius: 23.6"
American Company, American Fulfillment.
We are proud to be an american company serving solely the US market. Veteran and first responders discounts available upon call.
We ship directly from our warehouses located in CA and NJ within 48hrs of your order being placed. Shipping within the USA typically takes 2-5 business days via UPS Ground.

For sales, support or any other query, please reach out to us by phone (669) 267-5655 or by email Support@AllStarWheelchairs.com
FAQs
Do you have any questions?
How Long Is The Shipping?
Shipping times range depending on your location. Our shipping ranges from 2-5 days within the US. Both free and expedited shipping are available at checkout.
Returns?
If you don't love your wheelchair, send it right back! We'll help you through our extremely easy three step return process!
Wheelchair Weight Capacity?
Our wheelchair has a weight capacity of 300lbs.
What's The Wheelchair Weight?
Our best selling wheelchair weighs only 55lbs, making it easy for just about anyone to lift it into a trunk of a car!
Is Financing Available?
Yes! We offer financing/split payments with no credit required. Financing is available at checkout or you can reach out to our customer support.